ESR Staff Article
Events
Features
Games
News
Nintendo Switch
PC
Xbox Series X
E3 This Weekend: What to Watch For
ESPORTSREPORTER.COM / DANTE SRILAPA – SENIOR EDITOR / JUNE 6TH, 2021 /
Hey everyone, and welcome to E3 season. Coming up this weekend is the E3 gaming convention, where we get to see our favorite game devs and video game tech companies display their upcoming works for the year. Seldom is there an E3 where not a single hit is announced. Considering that this is the first E3 since the release of the next-gen consoles, one can only imagine what we've got in store.
The only issue is, Sony won't be attending, so don't expect to see anything for the PS5 just yet. Sony will be holding their own conference at a later date.
Below is the schedule for E3, so you can decide when to tune in and out: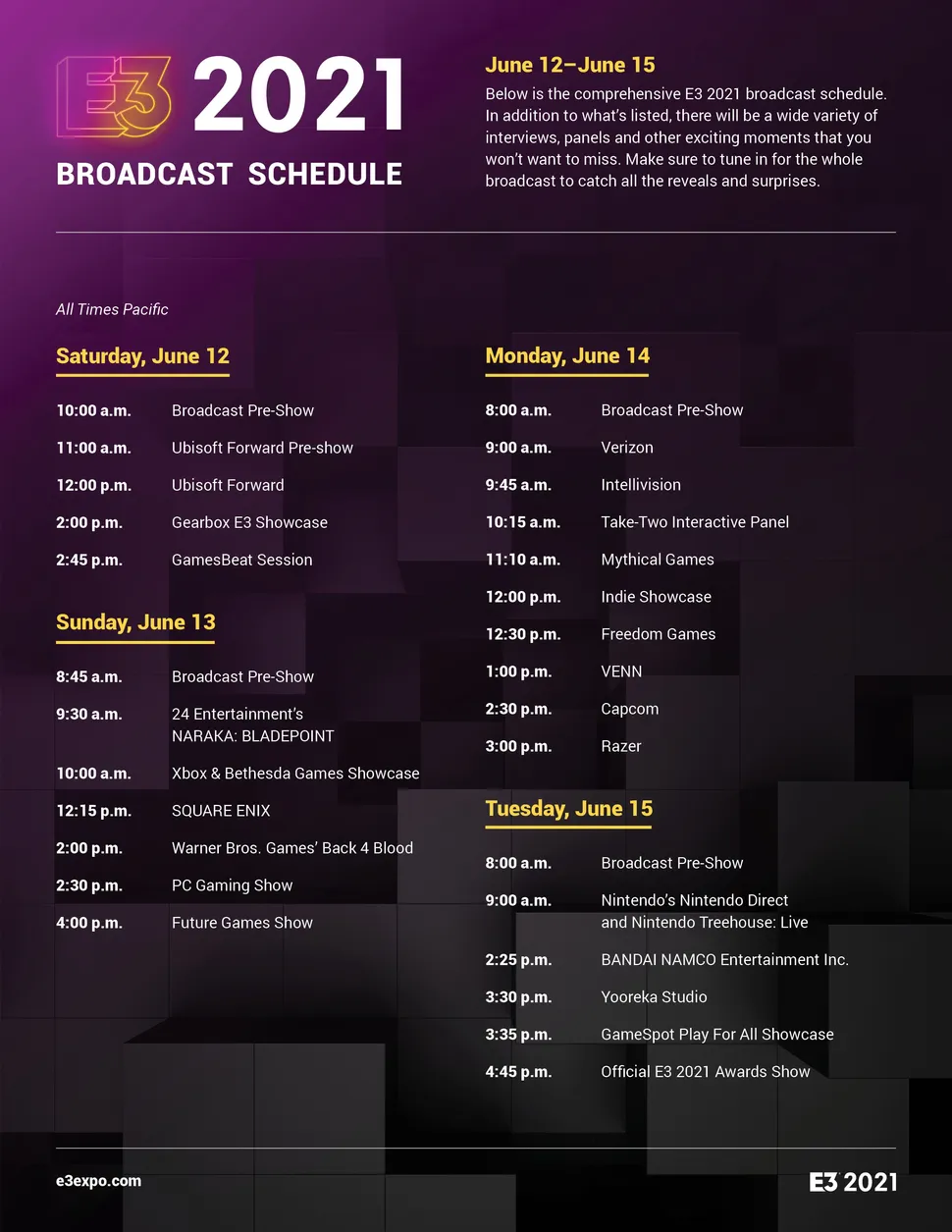 As video game players and consumers, E3 always has so much to offer. However, here's my list of things to look out for:
Possible new Super Smash Bros. Ultimate characters.
Bethesda with a possible new Elder Scrolls update.
Indie Showcase. Indie games never fail to amaze with innovation from the little guys.
News on Deathloop. I've been waiting for this game and I was sad to see it get delayed, but excited to see more of it. Hopefully the delay is worth it.
The Awards Show. I don't necessarily care how my favorite games stack up as long as I enjoy playing them, but I do love watching awards shows and seeing the winners.
And there you have it! I'm excited to get this years' video game season kicked off, and I hope you all are too. Hit us up on Twitter (@esreporter2020), on Instagram (@esportsreporter2020), or even in the comments below to let us know what you're looking most forward to!
_______________________________________________________
About Esportsreporter.com:  A leading news channel for all things eSports and gaming. Publishing the most relevant breaking news for esports and gaming including coverage of industry trends and guides on the business of eSports and gaming for investors and aspiring eSports and gaming professionals. 
Esportsreporter.com is a wholly owned subsidiary of Appsoft Technologies, Inc. (OTC:ASFT) a publicly traded development stage company aspiring to be a leading contender in the esports, gaming and mobile apps industry.
Safe Harbor Statement
This communication may include certain statements that are not descriptions of historical facts but are forward looking statements within the meaning of Section 27A of the Securities Act of 1933 and Section 21E of the Securities Exchange Act of 1934. These forward-looking statements may include the description of our plans and objectives for future operations, assumptions underlying such plans and objectives, and other forward-looking terminology such as "may," "expects," "believes," "anticipates," "intends," "projects," or similar terms, variations of such terms or the negative of such terms. There are a number of risks and uncertainties that could cause actual results to differ materially from the forward-looking statements made herein. Such information is based upon various assumptions made by, and expectations of, our management that were reasonable when made but may prove to be incorrect. All of such assumptions are inherently subject to significant economic and competitive uncertainties and contingencies beyond our control and upon assumptions with respect to the future business decisions which are subject to change. Accordingly, there can be no assurance that actual results will meet expectation and actual results may vary (perhaps materially) from certain of the results anticipated herein.