Anime
ESR Staff Article
News
The Way of the Househusband: Has Netflix Finally Found its Way?
ESPORTSREPORTER.COM / NICK HOROWITZ – STAFF WRITER / APRIL 17TH, 2021 /
It's no secret that Netflix has made some terrible choices in releasing anime. Anyone who had the displeasure of sitting through Knights of Sidonia or Ajin: Demi-Human is well aware of that. But the last few years, with anime-like originals like Castlevania and licensed series like Seven Deadly Sins, Netflix has shown signs it may be hitting its stride in getting anime content to fans. With the release of Great Pretender last year, they showed that not only can they occasionally get the ball over the plate, but they can knock it out of the park. Now Netflix may have done it again with The Way of the Househusband.
By no means am I saying that J.C. Studio's latest comedy is as incredible as Great Pretender. A series with a meager five episodes, that last less than twenty minutes each, couldn't come close to managing that. But The Way of the Househusband has charms all its own, and seems to show that the streaming giant that carries it may be getting more consistent with its anime choices. What Way of the Househusband has in common with the more acclaimed series is a fantastic stylized art style and gleeful crime-related storyline.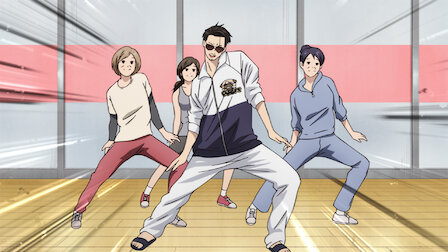 Made by the people behind Toradora, Way of the Househusband isn't a traditional anime series, but rather a number of short segments grouped together into episodes ranging from approximately fifteen to nineteen minutes. Like most Netflix releases, audio is available in both Japanese and English, with both being more than adequate, bordering on great. Where the series' audio really shines is the music, which is well timed and produced for a series of this size and scope.
Art is another strong showing for the program. The distinctive art style provides gorgeous stylized form for the show's world, and accentuates everything from the food the characters eat to the tattoos on their bodies. That said, animation is fairly minimal. Most of the scenes are done with a series of stills, with small prop and character movements, along with sound, conveying the feeling of motion without showing it. While being far from traditional, this style really works with the art style, as it provides a fantastic sense of fluidity for the still frames.
What may be the series' most divisive aspect is the writing. Quality writing makes or breaks a comedy series, and for me The Way of the Househusband succeeds in this regard. Tight, clever bits strung together across segments and episodes create both excellent comedy in the moment and a sense of character development over time. There's a great potential for comedy in the concept of a feared former Yakuza taking up the quiet life of a house husband, and while the show doesn't make perfect use of it, it's far from bad. If you're anything like me, the tales of Tatsu's misdeeds will put a smile on your face.
A final decision on the series is up to you. Fans of MyAnimeList don't seem to agree with my assessment, giving it a 6.82 out of 10, but what do they know? It could be a sign that Netflix has found an identity for it's original anime series. It may not be the perfect formula, but the bright colors and high-energy storytelling that defines Castlevania, Great Pretender, and now The Way of the Househusband has certainly created a gaggle of watchable shows. I'd love to see them put out more series in this vein, and I'm fantastically excited for the next season of The Way of the Househusband.
_______________________________________________________
About Esportsreporter.com:  A leading news channel for all things eSports and gaming. Publishing the most relevant breaking news for esports and gaming including coverage of industry trends and guides on the business of eSports and gaming for investors and aspiring eSports and gaming professionals. 
Esportsreporter.com is a wholly owned subsidiary of Appsoft Technologies, Inc. (OTC:ASFT) a publicly traded development stage company aspiring to be a leading contender in the esports, gaming and mobile apps industry.
Safe Harbor Statement
This communication may include certain statements that are not descriptions of historical facts but are forward looking statements within the meaning of Section 27A of the Securities Act of 1933 and Section 21E of the Securities Exchange Act of 1934. These forward-looking statements may include the description of our plans and objectives for future operations, assumptions underlying such plans and objectives, and other forward-looking terminology such as "may," "expects," "believes," "anticipates," "intends," "projects," or similar terms, variations of such terms or the negative of such terms. There are a number of risks and uncertainties that could cause actual results to differ materially from the forward-looking statements made herein. Such information is based upon various assumptions made by, and expectations of, our management that were reasonable when made but may prove to be incorrect. All of such assumptions are inherently subject to significant economic and competitive uncertainties and contingencies beyond our control and upon assumptions with respect to the future business decisions which are subject to change. Accordingly, there can be no assurance that actual results will meet expectation and actual results may vary (perhaps materially) from certain of the results anticipated herein.